This article, written by Vira Halim, was published in The Red & Black.
In Williamsport, Tennessee, Bass Alderson Road branches off from Turkey Creek Road. The road was named for Basil Alderson, 'Bass' for short, like the fish. Alderson was a farmer who would become the great grandfather and namesake of senior Georgia swimmer Basil Orr.
Roll call on the first day of classes or to-go orders at restaurants would inevitably bring mispronunciations of his first name. While Orr did not inherit his grandfather's nickname, he now spends almost as much time in the water as the popular fish that inspired it.
Family competition
Orr has a twin brother, Gilbert, who is a senior communications major at the University of Tennessee. While just outside Atlanta at Fernbank Elementary School, Shamrock Middle School and St. Pius X High School, the twins participated in every sport they could, cultivating a passion for competition and desire to be the best possible version of themselves.
His brother is as fiercely loyal as he is competitive, Orr's brother said. Never one to be a passive watcher, Orr was constantly in the middle of the action, regardless of the activity.
"Growing up, we were probably the two biggest kids when we played sports," Orr's brother said. "I was actually bigger than him for quite some time, but he was always the person that I would never ever want to face. It didn't matter how fast I came off or hit, he was going to do it harder, and he was going to do it better. If I did it better once, he was going to do it better three times."
That internal drive to constantly outdo himself set him apart in swimming, baseball, football and basketball. It was early in his high school career, however, that Orr recognized his unmatched passion for swimming and the possibilities that lied within the sport. He dedicated his year round seasons to training at the Dynamo club team in Atlanta, training alongside current teammates Gunnar Bentz and triplets Jay, Kevin and Mick Litherland.
Changing allegiances
His parents, Mac and Betsy Orr, were born and raised in Tennessee. They graduated from the University of Tennessee and passed on their love for the Volunteers to their twin sons, Gilbert and Basil. The Orrs sang "Rocky Top" all throughout their adolescent years, and a cocker spaniel named Tennessee wandered through their home.
As Basil's recruiting process began in high school, however, his attention turned toward another SEC school, one with a storied history of success in swimming and spearheaded by coaches ingrained and beloved in the Athens community.
Georgia head coach Jack Bauerle, who began his Georgia coaching career as a graduate assistant in 1975 alongside current St. Pius X principal Steve Spellman, traveled to Atlanta to visit highly-touted recruit Gunnar Bentz. Spellman called for both Orr and his best friend Bentz to meet with Bauerle in his office, a day that solidified Orr's path to Georgia.
"We had such a fun day, I had the two guys in [Spellman's] office and after that, we ate lunch in the cafeteria," Bauerle said. "I ate with Gunnar, Basil and the principal. Just sitting with Basil for that short time just cemented the fact that I wanted him here. When you sit across from somebody, you can tell a lot more, so it turned out well."
Into the spotlight
In his first two years, Orr battled for a spot just to travel. In the past 12 months, he has sharpened his talents technically and in his strength and conditioning foundation.
"Now he'll be scoring in at least two events, probably three," Bauerle said. "I love it when this happens. Kids come in, in a sense a virtual walk-on almost, and then they become one of the most important people on the team. I enjoy him every day."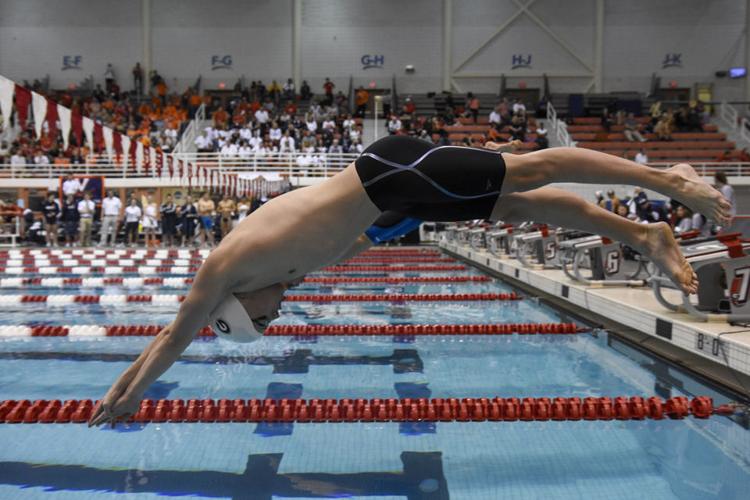 At the end of the season, Bauerle plans on naming the Atlanta native a captain to recognize his leadership.  Orr's career will end after NCAA Championships in late March.
In more than a decade of swimming, Orr has embedded discipline into his everyday lifestyle and has constructed treasured relationships along the way with his coaches, teammates and friends. From choosing summers in the pool over lazy days with friends, to the daily routine of rising at 5 a.m. to swim only to come back later in the day, Orr finds happiness in his ability to commit and see things through to the end.
"Without a doubt, it's going to drive him because it's all he knows," said Basil's father Mac Orr. "It's going to drive him to put in full days. He's going to realize how hard he's been working and how easy it is for him to get up and fill the day because that's all he's used to."
Having seen the greatest improvement this year than at any other point in his career, Orr looks forward to ending his time competing in the pool on the best note possible. He continues to gain from the Georgia swimming program both in and outside the pool.
"It's just a positive outlook," Bauerle said. "It's the most important thing to have, I think, not just in sports but in everyday life. He just sees everything he can enjoy. When he leaves here, he's going to be able to get more than a few jobs, but whoever has him, they're going to be thankful."
Embracing the opportunity
An extreme optimist, Orr dedicates himself to his family and team. Never one to be blinded by tunnel vision on his own improvement in the pool, Orr looked outward to the people alongside him. The rest would fall into place. He embraced the culture created by Bauerle and his staff, one which treated everyone equally.
"I came in, almost a walk-on, and I've gotten so much better since I've been here," Orr said. "One reason for that is the coaches gave me all the attention that they give the stars which is pretty unique because that doesn't happen everywhere."
He finds perspective in having the opportunity to compete, and recognizes the population of people who would delight in the opportunity to compete for a team, let alone the Georgia swim team.
"I try my best to use that and make it contagious to other people," Orr said. "Just doing things right when no one's paying attention because that's how you really set a good example."