This article, written by Alex Soderstrom, was featured in The Red & Black.
Before coming to Georgia, Kelly Thatcher never imagined she would spend her college years hurling herself off a slab of concrete
33 feet in the air.
"In high school, I was not known for overcoming fear and doing things like that," Thatcher said.
But now, Thatcher makes the leap often. The senior has become the team's leading platform diver, highlighted by her 10th place finish out of nearly 40 platform divers at the Tennessee Diving Invitational in Knoxville a month ago.
Thatcher's improbable role as a platform diver is not an unusual story at Georgia. Although platform diving, also known as tower diving, is generally considered a more challenging and dangerous event than springboard, Georgia's three platform divers were far from seasoned veterans in the event when they arrived on campus.
Instead, the trio – Thatcher, sophomore Allison Greene and freshman McKensi Austin – were each drawn to the event through paths that began spread across the United States but all ended at the top of a tower in Athens.
Making her mark
Growing up in Downingtown, Pa., platform diving was far from Thatcher's mind. The town of less than 8,000 people, tucked in the southeast corner of Pennsylvania, did not have a 10-meter diving platform.
Neither did the next town over. Or the next town.
"I think [for Kelly], the closest platform was probably a couple hours away," head coach Dan Laak said.
Indeed, the closest regulation diving platform in the state was most likely at Penn State, a two hour and 45-minute drive from Downingtown. Instead, Thatcher competed on springboards through high school, where she was named an All-American by the National Interscholastic Swimming Coaches Association.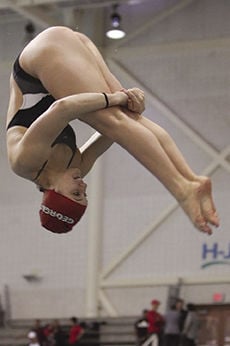 But once she arrived at Georgia, Thatcher decided she needed to expand her abilities in order to define herself as a diver.
"I walked on [at Georgia]," Thatcher said. "Not a lot of girls do tower, so it was really my opportunity to contribute to the team."
Thatcher began competing in platform her freshman year, learning from divers such as former Bulldog Laura Ryan, who is now with Team USA. Thatcher said those teammates taught her to conquer the fear of free falling more than three stories.
"We would dance up there, sing up there, just to kind of loosen up and get your mind off the fear," Thatcher said.
Fast forward three years and Thatcher, once a platform novice, has qualified for zones in the event two years in a row. As the senior platform diver for the Bulldogs, younger teammates now look to Thatcher as the calming force in what can be a nerve-wracking event.
"Kelly is a great example to learn from," Greene said. "She just seems so positive and she goes in with a, 'This is so easy, I love it,' style."
A familiar jump
Finding a platform was never an issue for Greene. As a Tallahassee native, Florida State's facilities were in her backyard. She just never took part in the event, besides an occasional jump off the 3 or 5-meter platform. However, Greene excelled on the springboards, capturing a state title in the 1-meter event as a senior at Lawton Chiles High School.
Like Thatcher, Greene's first experience with a 10-meter platform came at Georgia.
"It's nothing like you've ever done before," Greene said. "It's an adrenaline rush."
Greene quickly found tower suited her because of her time as a gymnast before she became a diver. All diving events share similarities with gymnastics, though platform is sometimes considered to be the most similar since divers are coming off a solid, unmoving surface.
This is exactly the case for Greene. According to her, platform dives are more comfortable because she doesn't have to worry about her dive being interfered with by a moving springboard.
Also similar to gymnastics, platform diving requires buildup exercises to ensure the body can handle the dive. Greene said she and her fellow tower divers are constantly doing lead-ups, dives from the shorter 3 and 5-meter platforms, and lineups, front-falls into the pool meant to practice correct entry into the water.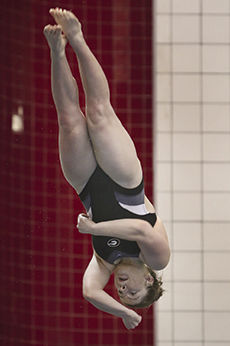 Those exercises ultimately gave Greene the confidence to take the 33-foot plunge from the tower.
"[When] you've done lead ups, you've done everything you need to in order to get to that point, it's just trusting it and going for it," Greene said.
Sitting between the other two platform divers in terms of age, Greene not only praised the leadership of the senior, but also said she attempts to be a positive role model for Austin.
As for Austin, she speaks of Greene in the same breath as the veteran senior.
"[Kelly] always has a positive attitude, same with Allison," Austin said "It's really nice to have them encouraging me."
An injury, an opportunity
By the time she was 16 years old, Austin was done with platform diving. Because of the 30-minute drive from her hometown of Castle Rock, Colo., to the Air Force Academy, the nearest available platform, she was only training once a week. Austin's practice schedule was so sparse she was unable to become accustomed to the impact of hitting the water from more than 30 feet in the air.
"When you're not training enough it's really hard to build up that tolerance," Austin said. "It almost ended up hurting me more than it was worth training."
The decision to quit platform hardly seemed to faze Austin's career. She captured three consecutive state diving titles in high school before signing with Georgia. While being recruited, Austin told her future coach she had no desire to train on platform.
And that is exactly what she did. As she began her Bulldog career last fall, Austin exclusively trained and competed on springboards. That was until an ankle injury struck at the Georgia Fall Invitational in December.
A springboard, with its flexible properties meant to launch divers in the air, was the last thing Austin's injured ankle needed. Eventually, she turned back to platform dives, which happen from a sturdy, unmoving concrete slab.
"[My injury] allowed me to focus on tower," Austin said. "I had no other choice but to do those dives."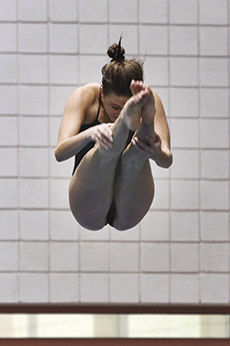 While taking a break from springboard, Austin said she rediscovered the exhilaration of platform diving. She started by sitting on the edge, overlooking the blue water below and pushing herself off. Slowly, she worked up to more elaborate dives by adding somersaults and jump-offs.
By mid-January, Austin's ankle had healed. But she was not ready to give up diving from the tower.
"I've been doing the same dives on springboard my whole life and now doing them on tower, it's so much more of an adrenaline rush," Austin said.
Now, Austin works in reps from the 10-meter platform two to three times a week, building up a tolerance to the impact with the water without wearing down her shoulders. Although she once wanted nothing to do with the event, Austin seems intent on making the tower a second home while at Georgia.
"I definitely want to make tower one of my main focuses for the next four years," Austin said.
Three of a kind
In practice, Thatcher, Greene and Austin move with comfort and ease on the tower, almost as if they are unaware falling from such a distance should scare them. They sing along with the music blasting in the natatorium and turn handstands into tumbling dives.
Before coming to Georgia, not one of them anticipated this is where they would end up. Only one had attempted a platform dive in her life.
Nevertheless, they are platform divers now, ready to make the leap and propel the Bulldogs to a Southeastern Conference and national title.
"You don't see a lot of springboard divers come in and then become great tower divers," Laak said. "Not that it hasn't happened and not that it won't happen again."