This feature on Caliya Robinson written by Tommy Boyd was originally published in The Red & Black.
During the Georgia women's basketball team's trip to Baton Rouge, Louisiana, earlier this season, the Lady Bulldogs enjoyed dinner at a restaurant that featured paper as tablecloths and crayons as the table decorations. Head coach Joni Taylor watched as most players finished ordering, grabbed a crayon and wrote their names or scribbled a picture.
As Taylor kept watching though, she noticed there was one exception: junior forward Caliya Robinson.
"I looked over at Caliya and she's full on drawing pictures of everybody on the team," she said. "Like cartoon caricatures of people, and I'm like 'Of course, Caliya.'"
The Lady Bulldogs are not surprised by Robinson's inclination to draw what she sees. The 6-foot-3 forward is majoring in art with a concentration in printmaking and book arts, and can sometimes be seen toting a sketchbook to practices. She has been drawing all her life, and has added painting to her repertoire as she continues with classes.
"It's not something I thought I'd come to college to do," Robinson said. "It's just like, why not keep going in something you're already talented in and something you can probably use more than any other major?"
The same mindset can be applied to her work on the basketball court, too. Robinson was the Bulldogs' leading scorer this season and has amassed more than 200 blocks in under three years in Athens. Her 96 this past season led the SEC prior to the NCAA Tournament. She's grown to be an integral part of Georgia's program through her contributions in scoring, rebounding and blocking shots.
She is one of five upperclassmen on the team (excluding redshirt sophomore Taja Cole), and her leadership has been earned through the trials of her earlier seasons.
"She'll be the first to tell you that she had her ups and downs last year as a sophomore and I think she's locked in, more focused, and she has the understanding that the [opponent's] game plan is going to be to take her out of the game," Taylor said. "She really trained hard, she got herself in better shape, she got stronger so she can withstand some of that physicality she's going to get."
The work Taylor referenced allowed the forward to improve on the court, but for Robinson, dominating the paint in a basketball game comes easier than the amount of time she spends painting for her grades.
"[Basketball] is a relief from art, for sure," Robinson said. "There are a lot of requirements that you have to meet every day. There's a lot of deadlines with a lot of drawings."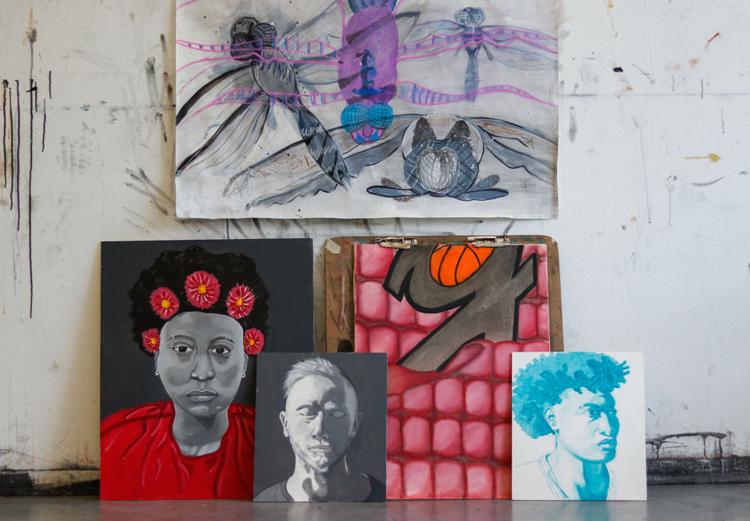 The busy schedule of the student athlete is made even more complicated by the fact that art classes are even longer than the almost one hour classes of most majors. On Mondays, Wednesdays and Fridays, Robinson attends a two-hour class in the morning and a three-hour class beginning at 3 p.m.
In between the two, she normally makes the short walk up Carlton Street for treatment, shootaround, or tutoring. While other students work on finishing their pieces outside of class, Robinson is busy playing games in Stegeman Coliseum.
For the most part, the Lady Bulldogs played on Thursday nights and Sunday afternoons. The art building is closed by the time Robinson leaves the games on Thursdays, however she usually tries to go there after games on Sundays in order to get work done.
Most of the work for her classes has to stay in the art building, which prevents some of her teammates and coaches from seeing everything she's been doing. Still, they don't always have to see the final product in order to understand how hard she has been working.
"About two weeks ago I looked down and her hands were red, and so then I looked at her hair because I'm thinking maybe she's dyed her hair, and she hasn't," Taylor said. "I was like 'What are you working on in art?' and they were working on some kind of tie-dye project. So for like two and a half weeks she was walking around with dye on her hands and she couldn't figure out how to get it off."
She has to do projects like the tie-dye one for class, but normally Robinson likes drawing and painting more realistic things when she has a choice.
She claims that she likes Picasso "alright," but she would rather see something and draw it instead of draw something born strictly from her imagination.
"She can literally take a picture of me and recreate it with her pencil or paint or whatever she uses, it's literally identical," said Mackenzie Engram. "She did one picture, and everything down to the little hairs were pinpoint perfect."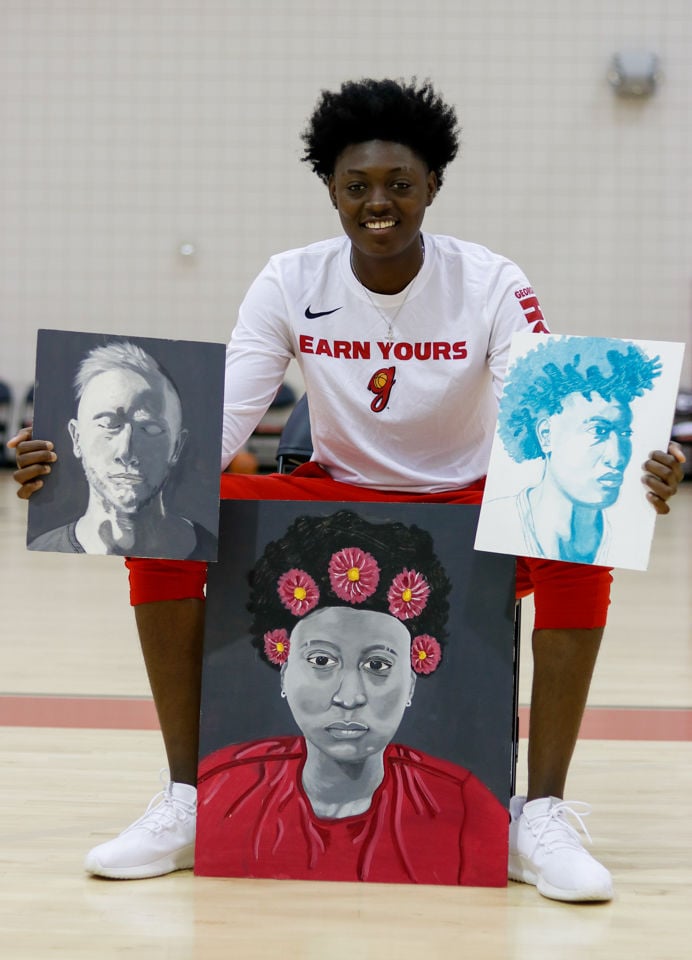 Players like Engram have seen some of the work that Robinson does off the court, however some of Robinson's classmates are not even aware that she plays basketball. Georgia's leading scorer and shot blocker stays under the radar when she is working in Lamar Dodd.
She wouldn't have it any other way.
"I try not to make it known, but it's normally my professors who say it because some of them actually come to the games," Robinson said. "But I really just try to blend in."
She blends in as much as any 6-foot-3 athlete can, that is.
The life that Robinson is living right now—the life of a still life painter by day and a ferocious shot blocker and dependable scorer by night—is all a part of her plan for the future. She hopes to one day have her own clothing line where she can incorporate some of her artwork into the designs.
"She definitely has a career in that area if basketball doesn't work out for her," Engram said. "Which I know it will, but it's a backup. A side hustle."
Having a plan outside of basketball is an important aspect of the program, according to Taylor. Even if the extent of the coach's involvement in that plan is simply watching one of her players draw on a paper tablecloth as they wait for the food that they ordered, or wondering why that player's hands are dyed red, she is happy to see them passionate about something other than the sport they share a love for.
When Robinson makes the downhill walk from Stegeman Coliseum to the art building on Sunday evenings, she perfectly exhibits the balance that the coach has tried to encourage for her entire career.
"From the very beginning, they know that life outside of basketball is as important if not more important than what we do here because one day the ball's going to stop bouncing," Taylor said. "That is something we talk about all the time, so we are doing them a disservice if all we do is talk about basketball."